Frank Kofi Osei was stabbed to death by his Ghanaian model girlfriend after he had supposedly travelled down to see her.
However, it has emerged that Mr. Osei was a family man who had a wife and kids.
According to the report, Mr. Osei had been cheating on his wife with the supposed socialite, Safina Diamond, for a while now.
Although the wife had tried several times to talk him into moving away from mingling with the flashy girls she saw on the internet, the man remained adamant.
Therefore, Mr. Osei usually travels from Canada to Ghana with the excuse of seeing his local family only to spend time with his girlfriend on the blind side of his wife.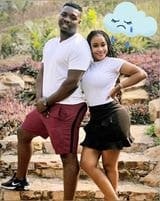 In fact, Mr. Osei had ordered an Uber to take his family away after they had arrived in Ghana only to sneak away to go see the Safina Diamond girl, who was his ex-girlfriend but was still bent on having an affair with her.
"Sir, please add the full story. The lady is his ex, whom he's still seeing on the side. " "A man is married with kids. He went out with his family on Friday and put them in an Uber to go home and went to his side piece, and she killed him and shoved him under a car to hide, "a bird whispered."
One thing led to the other, and the lady ended up stabbing him to death, reportedly. There's scant information on Mr Osei's wife and kids after the incident.
In the court, what led to the death of the Canadian guy who was allegedly killed by a level 100 student model, Safina Diamond, was vividly detailed by the prosecutor.
According to the authorities, a Technical Officer named Michael Fiifi Ampofo Arku helped Safina Mohammed Adizatu, age 23, perpetrate the crime.
READ ALSO  Brukina drink contains cancer-causing substance – Research by Noguchi Institute
According to the authorities, the deceased, Frank Kofi Osei, was a Ghanaian citizen with a residence in Canada who had travelled to the nation on holiday.
According to reports, Safina, also known as Safina Diamond on social media, and Arku repeatedly stabbed the victim in the chin, jaw, and back before strangling him to death.
The two were charged with murder and conspiracy when they appeared in court in Adenta.
Osei, who is now dead, visited Safina, his fiancée, who lives at Ashalley Botwe School Junction on Sunday, July 24, 2022, and made the decision to spend the night, according to the prosecution's case, which was made by Chief Inspector Jacob Nyarko.
The prosecution asserts that Osei was fatally strangled after being repeatedly stabbed with a knife on his chin, jaw, and back during the early hours of the morning by Safina, Arku, and other unknown accomplices.
The corpse was in the room for a full day before Safina and Arku cleaned up the blood, according to the Chief Inspector.